LCP Packing: Development of Steel Reinforced Expanded Graphite Seals
Developed to address one major weakness of expanded graphite – it is extremely sensitive to shear – the packing design of LCP combines layers of expanded graphite with layers of knitted wire mesh. The material is then molded into endless rings, both vee shaped for pressure seals and upper and lower adapters as needed. Other geometries can be molded as needed.
The metal (usually 304/304L or 316/ 316L annealed stainless steel) serves to reinforce the graphite, while the graphite cushions the metal, letting the metal sink in at a fairly low stress level (this lowers the chance of galling against stem movement). Graphite is inert to almost all media except strong oxidizers such as nitric and sulfuric acids. Choosing the proper mesh metal for the media to be sealed is essential.
We can manufacture the seals using any annealed wire alloy which can be knitted. To date, the LCP has been used against steam in both stem sealing and wellhead packoff applications.
For more information on this expanded graphite seal solution, see the table below or contact the Jim Ray Company directly.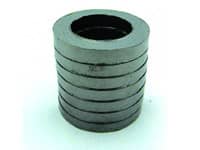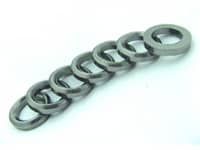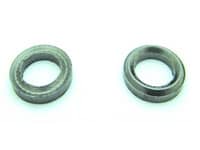 Overall Part Dimensions Wire Mesh Diameter: 0.004″ to 0.006″ Advantages/Benefits
Graphite being easily sheared is minimized
Steel reinforces the graphite
Graphite cushions the metal from movement and prevents galling
Stable at Extreme Temperatures (1,200°F In Steam) Graphite is inert to almost all media Material Used:
304/304L Annealed Stainless Steel Mesh
316/ 316L Annealed Stainless Steel Mesh
SG-630 – A graphite based injection packing made for steam service at 600+ Deg. F.
Jim Ray SG-630 is a pliable, graphitic injection-gun type plastic bulk packing with a high graphite content and a non-asbestos binder blended with synthetic oils and selected fibers. This matrix is formulated to energize split-box type V-packing and wellhead gland designs.The effective temperature range is from -65 to 600°F. SG-630 is a more plastic version of SG-600 packing.It can be injected through a ball check fitting in the field to pack off or rejuvenate leaking stem packing glands and geothermal wellheads.The packing is formulated to greatly reduce the hardening in service often encountered in geothermal injection packings.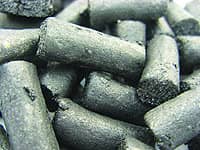 SG-630 is manufactured using low friction ingredients, resulting in a lubricious and easily injected product which will often lower valve torque requirements.Jim Ray SG-630 is formulated for geothermal and steam service. Testing is recommended for any other service.
Properties
TYPE Plastic Bulk, Gray/Black color
SHELF LIFE 10 years
MOISTURE CONTENT Nil
FORMS AVAILABLE
3/8 x 1″ pills (100/jar)
1-1/2 x 7″ sticks (2/Box)
¼ x 1 x 4″ long strips